Physiotherapy at Synergy Healthcare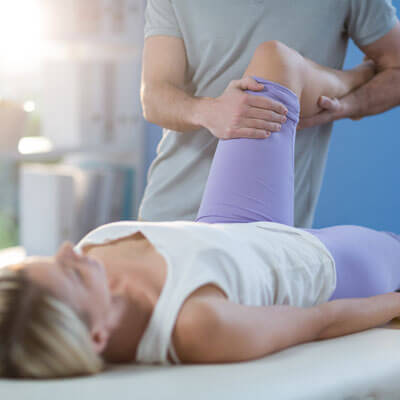 Physiotherapy is a science that is primarily concerned with the recovery or rehabilitation of impairments or disabilities caused by injury or illness. It helps to promote mobility, functional ability, quality of life and movement potential. These benefits are created through specific examination, evaluation, diagnosis and physical intervention.
This specialty is a holistic approach that focuses on the science of movement. It helps people to restore, maintain and maximise their physical strength, function, mobility and overall wellbeing by addressing the underlying physical issues.
Common Symptoms
The most common symptom that a physiotherapist addresses is pain. This pain is usually musculoskeletal; it's often accompanied by restricted movement and weakness.
The most important part of care at Synergy Healthcare is making sure that the patient knows that they're in control of their recovery. Second in importance is doing the correct type of exercise. Massage, joint mobilisation and electrotherapy are also helpful in reducing tightness and stiffness.
Conditions That May Benefit From Physiotherapy
Physiotherapists are experts at providing care to help prevent injury and disability. They manage both acute and chronic conditions and can improve and maintain optimal physical performance. These professionals also have the responsibility of educating those they serve to help prevent recurrence of an injury. Common conditions that are seen in our office include:
Knee Pain
Ligament injuries (ACL and MCL)
Meniscal tears
Osteoarthritis
Patella dislocation
Patella-femoral pain syndrome
Low & Mid Back Pain
Disc strain/degeneration
Joint sprain
Mechanical back pain
Muscle spasm
Sciatica
Elbow & Hip Pain
Tennis elbow
Golfers elbow
Shoulder Pain
Biceps tendonitis
Dislocation
Frozen shoulder
Humeral fractures
Rotator cuff tendonitis/osis/tear
Neck Pain
Joint stiffness
Muscle tension
Whiplash
Wry neck (locked neck)
Ankle and Foot Pain
Physiotherapy can also assist in helping those suffering from neurological or orthopaedic trauma, as well as cardiorespiratory and women's health issues.
Physiotherapy Techniques
Our techniques are gentle and designed to reduce or eliminate pain in the shortest amount of time possible. Common approaches can include manual movement, acupressure, electrical nerve stimulation and functional testing.
We also teach proper movement patterns ("demonstration") so that the patient can play a vital part in their recovery. If necessary, we also provide the application of assistive, adaptive, supportive and protective devices and equipment.
Make a Convenient Appointment Today
If you're experiencing issues with movement or function, or are just seeking to optimise your health, we can help. Our goal is to dull pain, release muscles, optimise movement and boost the immune system. Contact our friendly Sylvania Waters chiropractic care centre today!
CONTACT US


Physiotherapy Sylvania Waters, Miranda, Taren Point, Sutherland Shire NSW | 02 9522 2125