Massage Therapy at Synergy Healthcare
Massage therapy is a highly beneficial complement to chiropractic care. This holistic approach to optimised health helps to relax tight muscles and increase circulation. Massage therapy also helps to lessen nerve pain, reduce stress and stimulate the immune system.
When muscular tissue has been "warmed up" through specific massage techniques, chiropractic adjustments tend to be easier with longer-lasting results.
Benefits of Massage Therapy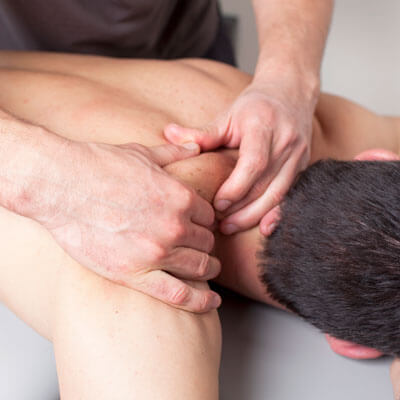 Assists with stress management
Decreases tension headaches and neck pain
Hastens recovery from sports injuries
Improves sleep
Increases blood flow to injured or tight muscles
Promotes relaxation and wellbeing
Reduces muscle tension and adhesions
Releases toxins
Regular massage has also been found to assist with injury prevention and performance enhancement.
Our Popular Massage Techniques
Our massage therapist can vary the intensity of your care from gentle and relaxing to firm and therapeutic. The care we offer is always compatible with the individual needs of each patient.
The following massage styles are available:
Corporate Massage – Have you ever felt tired and stressed at work? Synergy Healthcare can help! Massage can be done at your workplace, either on a seated massage chair or massage table. The goal of corporate massage is to decrease stress and muscle tension, increase productivity and promote a general sense of wellbeing and relaxation.
Deep Tissue Massage – Deep muscle massage therapy involves more intense pressure into the muscles and connective tissue. Its therapeutic goal is to release chronic aches and pain, increase blood flow and release muscle tension and adhesions.
Pregnancy Massage – For moms-to-be and postpartum women, this massage addresses the unique needs involved in the pregnancy and birthing experience. Common symptoms can be reduced or eliminated, such as neck and back pain, headaches and sciatica.
Swedish Massage – Swedish massage is famous for its stress-reducing and relaxing effects. The strokes are long and gentle and promote natural healing.
Our massage therapy sessions range from 30-90 minutes and are always customised to your needs and preferences.
Let's Get Started Today
Whether you need to reduce your stress and re-charge or desire specific therapeutic intervention, Synergy Healthcare can be of tremendous assistance in helping you meet your goals. We have the tools, expertise and experience to make a difference in your wellbeing and overall health. The combination of chiropractic care and massage therapy has been popular with patients for many years. We encourage you to make a convenient appointment today at our Sylvania Waters practice!
CONTACT US


Massage Therapy Sylvania Waters, Miranda, Taren Point, Sutherland Shire NSW | 02 9522 2125